In the 50s, the Deutsche Bundesbahn increasingly faced competition from truck traffic. To counter this, innovative transport solutions have been developed. One of them was dump trucks, which made it possible to unload the cargo directly from the railway wagon onto the truck. For this purpose, the wagons were equipped with 5 bulk material troughs that could be tilted on both sides.
The construction was based on a development of the Westf. Landes-Eisenbahn (WLE). Between 1953 and 1970, the Deutsche Bundesbahn procured about 3,900 cars of this type in various series, which differed in various details such as safety equipment, brakes, etc. Unfortunately, over time, it turned out that with bad tracks or frozen cargo, the wagons can topple over when the troughs tilt. To prevent this, track pliers were retrofitted on both long sides of the wagons or installed directly on new wagons. These were attached to the track on the side facing away from the tilting direction and thus prevented the wagon from overturning. From the 1980s, the first wagons were retired. Since the wagons were very popular with customers, the last wagons remained in circulation until the mid-2000s despite the not harmless operation. Some cars were then taken over by private railways and were thus used for several years.

Unfortunately, nothing is known about the year of construction and manufacturer of our wagon, based on its features the year of construction can be limited to the years 1963 - 1967. Most recently, he ran with the Deutsche Bundesbahn with the operating number 600 0 582, later he first came to the Prignitz Railway Company, then to the Hohenzollersche Landesbahn (HzL). From there we bought the wagon in 2011.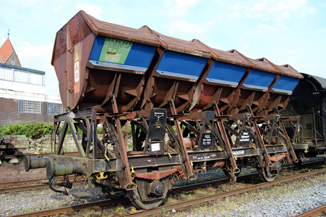 ---
| | |
| --- | --- |
| Type | Ommi51 |
| Manufacturer | unknown |
| Fabrication N° | unknown |
| Year | unknown |
| Lenght over buffers | 9.000 mm |
| Total weight | 12,4 t |
| Load weight | 27,0 t |
| Brake type | KE G |
| Max speed | 90 km/h |
| Last company number | 600 0 582 |
| Status | not serviceable |
---