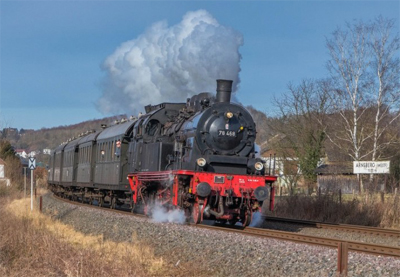 Eisenbahn-Tradition is a non-profit making charity, based at Lengerich, between Münster and Osnabrück. We have a collection of over 30 railway vehicles - steam and diesel loco-motives, passenger carriages and good wagons. These have been accurately restored (with a theme of the mid-1950s) for operation or display as examples of railway history an technology, giving you a taste of railway trevel from a bygone age.
All members of Eisenbahn-Tradition are volunteers working on their free time, whether this is a driver, fireman, guard or behind the bar. Our income comes exclusively from the sales of tickets, refreshments and souveniers, plus donations. We are always looking for new volunteers to strengthen our team - there are many projects waiting to start! So why not make steam trains your hobby? Working with us you'll learn all about the technical and historical aspects of railways first hand.
New volunteers are always welcome. You might be involved with the upkeep and running of our historic train, with the administration or with the workshop skills there's always plenty to do. Later, with appropriate training, you can become qualified as a guard, shunter or fireman (A working knowledge of German is required).